Southeastern CT's Premier Paving Company
Northeast Paving, LLC, a residential paving company was founded in New London, CT in 2001 by Gina Phillips who has been in the construction/paving business all her life. The CT paving company provides numerous services along with exceptional customer service. Northeast Paving is a State of CT Certified W.B.E.. The company's hard work and dedication has allowed them to become a leader of the industry in New London County, Connecticut (CT).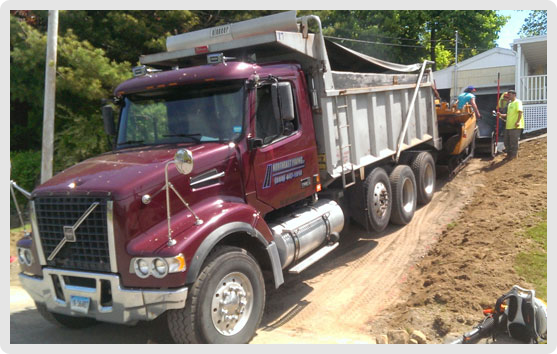 Northeast Paving offers a variety of services in Southeastern, CT: driveway and parking lot paving, patching and repair, gravel, stone and milling installation, grading and excavation, complete asphalt maintenance, and trucking services.
FREE, No Obligation Consults are always available for residential, commercial, and municipal services. They will come to any location in the New London County region, personally meet with the customer, and provide a consult, all at no cost or commitment. Material delivery services are also provided for basic needs such as, topsoil, asphalt millings, stone, gravel, etc.
Priding themselves in creating a relationship with each and every customer, Northeast Paving is heavily involved in the community. They are in attendance of the Southeastern CT Home Show every year, have sponsored a youth soccer team and a New London youth lacrosse program, and have donated their time and materials to provide many trucking and asphalt services for the Town of Waterford Soccer Program and St. Bernard School in Uncasville, CT in 2012.
Northeast Paving Provides Detail + Design For Your New Driveway
Northeast Paving views paving as a science. Through the 30+ years and 3000+ driveways installed, Northeast Paving has troubleshot and resolved the toughest of driveway issues. That means they can provide a higher caliber of paving services in CT with a skilled team.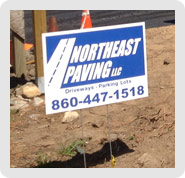 You may have seen Northeast Paving signs on a neighbor's lawn or event brochures showing their sponsorship of local clubs and sport teams. Northeast Paving believes in giving back to the community that supports her.

If you're looking for a quick-fix, quick-sale job, Northeast Paving may not fit your needs. But if you appreciate a trusted and diligent Connecticut (CT) paving company to add value to your home, church or small business, Northeast Paving can help in a number of ways:
Read "Why Choose Northeast Paving?" to learn more about us.
Please call us at 860-447-1518 with questions or to set up a FREE, No Obligation Consult.
Contact our company to outline your needs, or simply ask questions via our online form.
Who Do We Serve?
Northeast Paving provides paving services for residential, commercial and municipal projects in the Southeastern CT area, including the following towns: East Lyme, Essex, Groton, Ledyard, Lyme, Montville, Mystic, New London, Niantic, North Stonington, Old Lyme, Old Saybrook, Salem, Stonington, and Waterford, CT.