Southeastern CT's Premier Paving Company
We know you have choices when it comes to selecting a company to pave your driveway or grade and install a parking area, but did you know this…?
The typical paving contract you'll sign does not have the backing of the Consumer Protection Agency. Ours does. We have gone out of our way to have them review and put their stamp of approval on it. Because of that, you can rest assured that you'll get no surprises. In fact, we invite you to download this sample 3-part consumer-protection approved contract that shows how you'll get exactly what you pay for when you hire us.
Great Driveway & Parking Lot Installations
Simply put, our paving team is awesome at driveway installations, parking lot installations, and asphalt maintenance for residential and commercial paving projects in Southeastern, Connecticut (CT). Let us help you to design a practical driveway or parking lot that is stable and long-lasting.
We Are Referred Often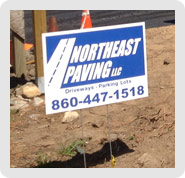 A majority of our paving business comes from satisfied customers.
In fact, you've probably noticed our signs everywhere.


We Ensure Our Driveway Is Functional
Based on over 30 years of experience with residential and commercial paving projects, Northeast Paving is the leader in driveway and parking lot paving and asphalt maintenance in Southeastern, CT.
We consult with you to design a customized and functional driveway that will not only look great, but will also be practical.
If you appreciate expert paving service at reasonable prices, Northeast Paving, LLC can help in a number of ways:
Please call us at 860-447-1518 with questions or to set up a FREE, No Obligation Consult.
Contact our company to outline your needs, or simply ask questions via our online form.
Who Do We Serve?
Northeast Paving provides paving services for residential, commercial and municipal paving projects in the Southeastern CT area, including the following towns: East Lyme, Essex, Groton, Ledyard, Lyme, Montville, Mystic, New London, Niantic, North Stonington, Old Lyme, Old Saybrook, Salem, Stonington, and Waterford, CT.